We're thrilled you've decided to join us this summer! Here are the nitty-gritty details you need to know:
-Books start arriving the week of June 14th. Watch for weekly emails from telling you all about that week's book and activities. We also fill you in on anything extra you might need to make things super special (i.e. blue food coloring)!
-You can ALWAYS reach out to hello@hullabaloobookco.com (or reply to our emails) with questions, comments, and especially address changes!
-Feel like showing off? Tag your kids and their fun @hullabaloobookco #camphullabaloo for the chance to receive free books and prizes!
-If you subscribed for the full summer, you're good to go! Get ready for 8 weeks of fun, ending the week of August 2nd.

-If you're paying week-to-week you will be charged your weekly subscription price plus $3.95 shipping on MONDAYS. Look for Hullabaloo on the bank statement.
-We will automatically stop payments after your final charge on July 26th. No need to notify us, it's already taken care of.
-If you decide you'd like to stop receiving shipments before the end of Camp, you must email hello@hullabaloobookco.com by SUNDAY, two weeks before you'd like to stop receiving books. This is because we've already purchased your books and supplies. Clear as mud? Here's a handy graphic to help with this confusing part: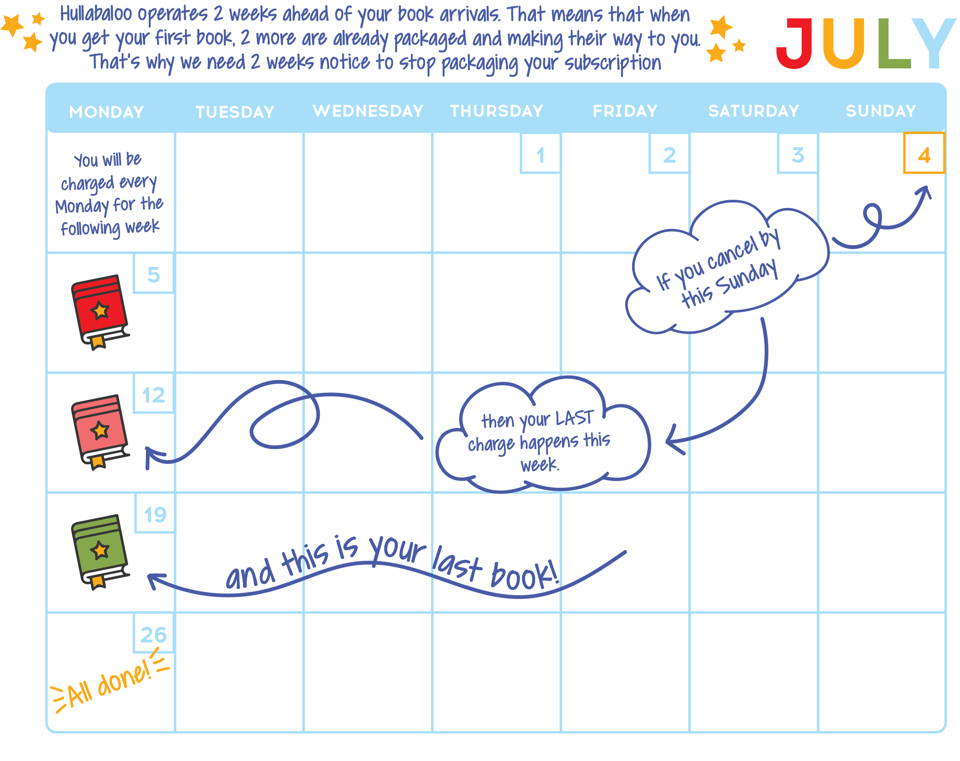 Pack your (book) bags because you're all set to start our grand adventure!