• Crafts • Founder Posts • free printable • thanksgiving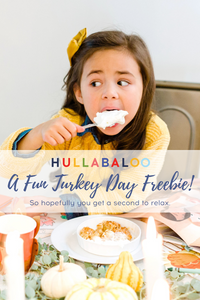 Shop Hullabaloo Crafts Keep Kids Busy with This Fun Turkey Day Freebie For during dinner or that chunk of time after the parade but before turkey. By Hollis  11/21/22 Just a little something from us to you! We hope it keeps little hands busy so you can find a minute to relax this holiday. You can print to size on regular typing paper or go nuts and print it on tabloid size and use as placemats! Get your free download HERE and have a happy Thanksgiving!
---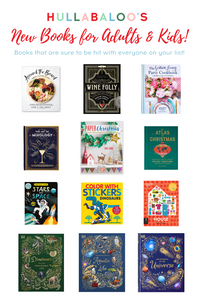 Shop Hullabaloo Roundups New Books on the Site: Kid & Adult Edition Great gifts for everyone that can be enjoyed this season and all year long. By Hollis  11/21/22 You can never go wrong giving the gift of reading and we have some fantastic new books sure to thrill bookworms of all ages. Get to know our favorites and be ready to shop all weekend long! FOR THE GROWN-UPS 1. Around the Board Get in on the beautiful board trend! With a chapter for Winter, Spring, Summer, and Fall, the reader will learn to make nearly 50 creative, delicious boards that...
---
• Founder Posts • Gifting • Roundups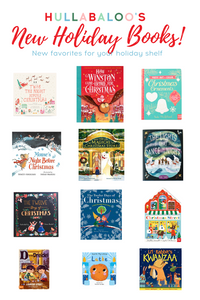 Shop Hullabaloo Roundups New Books on the Site: Holiday Edition Kick the season off right with new festive favorites. By Hollis  11/17/22 Ding dong! It's new books knocking at your door! After two years of sluggish publishing and shipping seasons, it feels like things are finally moving again. That means we have some new (and new to us) books on the site that we are so excited about. We're starting with holiday books today because there's nothing we love more than breaking out a new holiday book over Thanksgiving weekend and reading it alllllllll season long. We hope you find one...
---
• Roundups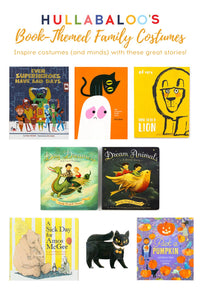 Shop Hullabaloo Roundups Family Halloween Costumes Inspired by Our Favorite Books! Inspired costumes with incredible backstories. By Hollis  9/30/22 Who doesn't love a literary-inspired costume! Dorothy and the gang, Peter Pan and Tink, Pippi, Huckleberry, and Harry are all iconic costumes with the added bonus of a good read in prep for the big night. We've gathered up some of our favorite Hullabaloo books that also happen to provide some pretty fantastic inspiration for this year's costume contests. We hope they inspire outfits for the whole fam! ABC What Can I Be has SO many great ideas for profession-based costumes....
---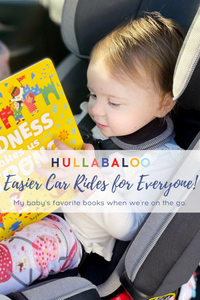 Stash these cute board books all over the car and you'll keep baby AND mom happy!